The XLA122-DSP is an active line array system. A newly designed horn and acoustic load provide high efficiency in the mid-frequency range and 90 degrees uniform horizontal coverage. Its excellent sound performance, compact size and light weight make it ideal for demanding touring events and fixed installations.
The XLA122-DSP features two customised 3" HF drivers with composite diaphragms and two customised 12" LF drivers (with 3" voice coils).
XLA122-DSP system can be used as a main PA system with a maximum of 16 cabinets per array.
User selectable three presets (Linear, HFX, W/SUB) in XLA122-DSP are available for users to choose according to their needs.
The XLA122-DSP can be suspended vertically. Built-in hardware with innovative quick-release mechanism with high-strength 10mm pins makes installation easy, safe and quick. The system can be sized according to the required vertical coverage angle to meet the different requirements of different applications. For venues where the system cannot be flown, customised frames are available for ground stacking (maximum of 4 cabinets).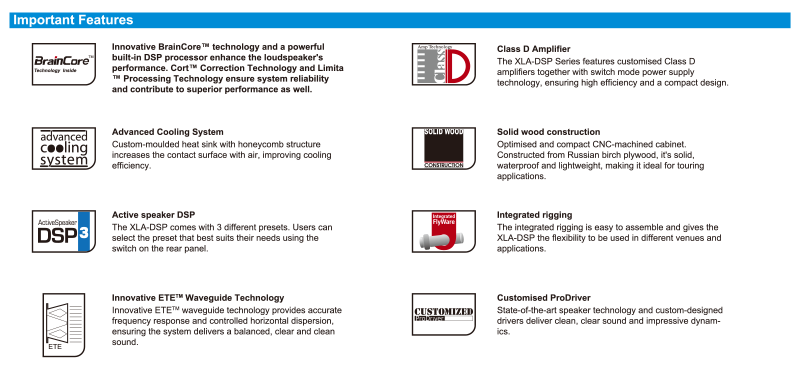 Specifications
| | | | |
| --- | --- | --- | --- |
| | XLA102-DSP | XLA122-DSP | XLA182-DSP |
| Frequency Response(-6dB anechoic chamber) | 55Hz-19KHz | 43Hz-20KHz | 32Hz-150Hz |
| Maximum Calculated SPL/1M(Continuous/Peak) | 132dB/138dB | 132dB/138dB | 133dB/139dB |
| Horizontal Coverage Angle (Symmetrical) | 90° | 90° | / |
| Vertical Coverage Angle (Dissymmetrical) | Depend on the amount of the speaker and curvature of the line array | Depend on the amount of the speaker and curvature of the line array | / |
| LF Driver | Customized 2x10" driver, 2.5"voice coil | Customized 2x12" driver, 3"voice coil | Customized 2x18" driver, 4"voice coil |
| HF Driver | Customized driver, 1.0"exit, 2x1.75"voice coil | Customized driver, 1.4"exit, 2x3"voice coil | / |
| Amplifier Circuitry | Class D | Class D | Class D |
| Power(Peak) | 2000W | 2000W | 4000W |
| Frequency Response(1W 8Ω 2ch) | 20Hz-20kHz(±0.5dB) | 20Hz-20kHz(±0.5dB) | 20Hz-20kHz(±0.5dB) |
| Intermodulation Distortion | <0.05% | <0.05% | <0.05% |
| Total Harmonic Distortion | <0.05% | <0.05% | <0.05% |
| Protection | DC protection, short circuit protection, overheat protection, input overload protection, output overload protection, soft startup protection, overvoltage protection, undervoltage protection | DC protection, short circuit protection, overheat protection, input overload protection, output overload protection, soft startup protection, overvoltage protection, undervoltage protection | DC protection, short circuit protection, overheat protection, input overload protection, output overload protection, soft startup protection, overvoltage protection, undervoltage protection |
| Cooling System | Cooling with fans | Cooling with fans | Cooling with fans |
| Processor | 96KHz signal sampling frequency, 24bit precision | 96KHz signal sampling frequency, 24bit precision | 96KHz signal sampling frequency, 24bit precision |
| Presets | LINEAR,HFX,W/SUB | LINEAR,HFX,W/SUB | 80Hz,100Hz,120Hz |
| Crossover | Controlled by DSP | Controlled by DSP | Controlled by DSP |
| Signal Input/Output Connectors | Female XLR input,male XLR output | Female XLR input,male XLR output | Female XLR input,male XLR output |
| Power Input/Output | Power connector | Power connector | Power connector |
| AC Power Operating Range | 100V~130V or 220V~240V(±10%,50/60Hz) | 100V~130V or 220V~240V(±10%,50/60Hz) | 100V~130V or 220V~240V(±10%,50/60Hz) |
| Adjusted Angles | 0.25°、1°、2.5°、4°、6°、8°、10° | 0.25°、1°、2.5°、4°、6°、8°、10° | / |
| Cabinet Material | Russian birch plywood CNC made | Russian birch plywood CNC made | Russian birch plywood CNC made |
| Cabinet Color | Black is standard and default color. Consult with sales team for other customized colors | Black is standard and default color. Consult with sales team for other customized colors | Black is standard and default color. Consult with sales team for other customized colors |
| Dimension (W×H×D) | 832×295×424mm | 1010×347×501mm | 1154×548×750mm |
| Net Weight | 38.0Kg | 53.0Kg | 82.0Kg |