The XLA182-DSP is an active, DSP-controlled dual 18" subwoofer designed to meet the high demands of touring and fixed installations.
The XLA182-DSP features two customised 18" LF drivers (with 4" voice coils).
User selectable three low pass filters (80Hz,100Hz,120Hz) are available in the XLA182-DSP for users to choose according to their needs.
The XLA182-DSP is a perfect match for all XLA and XLA-DSP full-range speakers, extending the very low end and delivering powerful, impressive and punchy bass.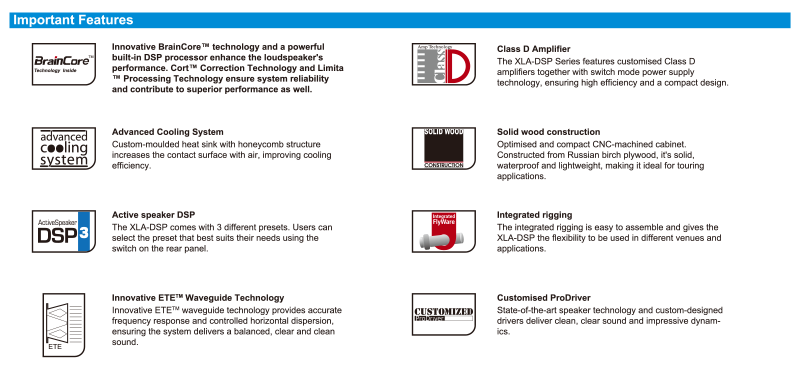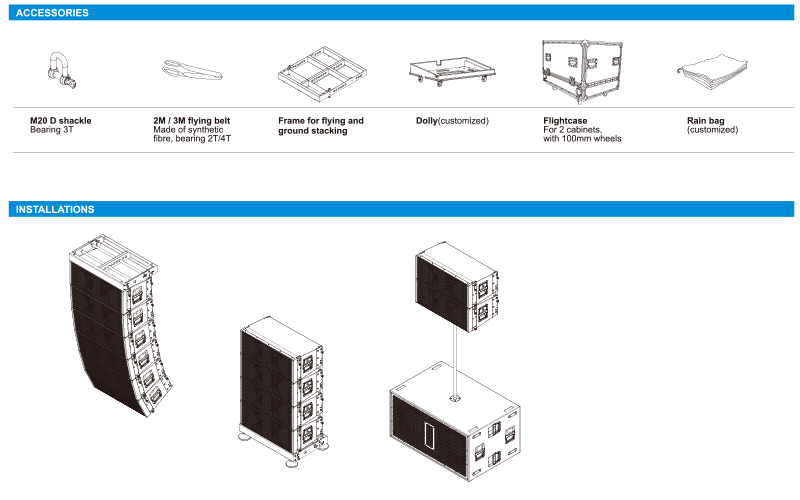 Specifications
| | | | |
| --- | --- | --- | --- |
| | XLA102-DSP | XLA122-DSP | XLA182-DSP |
| Frequency Response(-6dB anechoic chamber) | 55Hz-19KHz | 43Hz-20KHz | 32Hz-150Hz |
| Maximum Calculated SPL/1M(Continuous/Peak) | 132dB/138dB | 132dB/138dB | 133dB/139dB |
| Horizontal Coverage Angle (Symmetrical) | 90° | 90° | / |
| Vertical Coverage Angle (Dissymmetrical) | Depend on the amount of the speaker and curvature of the line array | Depend on the amount of the speaker and curvature of the line array | / |
| LF Driver | Customized 2x10" driver, 2.5"voice coil | Customized 2x12" driver, 3"voice coil | Customized 2x18" driver, 4"voice coil |
| HF Driver | Customized driver, 1.0"exit, 2x1.75"voice coil | Customized driver, 1.4"exit, 2x3"voice coil | / |
| Amplifier Circuitry | Class D | Class D | Class D |
| Power(Peak) | 2000W | 2000W | 4000W |
| Frequency Response(1W 8Ω 2ch) | 20Hz-20kHz(±0.5dB) | 20Hz-20kHz(±0.5dB) | 20Hz-20kHz(±0.5dB) |
| Intermodulation Distortion | <0.05% | <0.05% | <0.05% |
| Total Harmonic Distortion | <0.05% | <0.05% | <0.05% |
| Protection | DC protection, short circuit protection, overheat protection, input overload protection, output overload protection, soft startup protection, overvoltage protection, undervoltage protection | DC protection, short circuit protection, overheat protection, input overload protection, output overload protection, soft startup protection, overvoltage protection, undervoltage protection | DC protection, short circuit protection, overheat protection, input overload protection, output overload protection, soft startup protection, overvoltage protection, undervoltage protection |
| Cooling System | Cooling with fans | Cooling with fans | Cooling with fans |
| Processor | 96KHz signal sampling frequency, 24bit precision | 96KHz signal sampling frequency, 24bit precision | 96KHz signal sampling frequency, 24bit precision |
| Presets | LINEAR,HFX,W/SUB | LINEAR,HFX,W/SUB | 80Hz,100Hz,120Hz |
| Crossover | Controlled by DSP | Controlled by DSP | Controlled by DSP |
| Signal Input/Output Connectors | Female XLR input,male XLR output | Female XLR input,male XLR output | Female XLR input,male XLR output |
| Power Input/Output | Power connector | Power connector | Power connector |
| AC Power Operating Range | 100V~130V or 220V~240V(±10%,50/60Hz) | 100V~130V or 220V~240V(±10%,50/60Hz) | 100V~130V or 220V~240V(±10%,50/60Hz) |
| Adjusted Angles | 0.25°、1°、2.5°、4°、6°、8°、10° | 0.25°、1°、2.5°、4°、6°、8°、10° | / |
| Cabinet Material | Russian birch plywood CNC made | Russian birch plywood CNC made | Russian birch plywood CNC made |
| Cabinet Color | Black is standard and default color. Consult with sales team for other customized colors | Black is standard and default color. Consult with sales team for other customized colors | Black is standard and default color. Consult with sales team for other customized colors |
| Dimension (W×H×D) | 832×295×424mm | 1010×347×501mm | 1154×548×750mm |
| Net Weight | 38.0Kg | 53.0Kg | 82.0Kg |